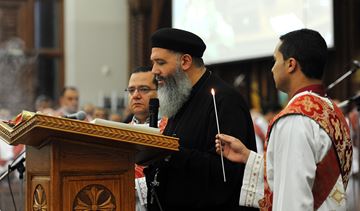 Pope Tawadros II, leader of the Coptic Church visited the Church of the Virgin Mary & St. Athanasius at the Canadian Coptic Centre on Wednesday. Father Gawargious Michael leads the congregation before the arrival.
MISSISSAUGA – Members of the Canadian Coptic Centre on Eglinton Ave. ushered in a new Coptic year Wednesday with a visit from Pope Tawadros II.
After stopping in Etobicoke, the welcome mat was rolled out in the Church of the Virgin Mary and St. Athanasius for the Coptic Pope, who stopped in Mississauga as part of his first cross-Canada tour.
Ramy Botros, spokesperson for the church, said some 2,000 people came out for the papal visit, including Mayor Hazel McCallion, Ward 5 Councillor and mayoral candidate Bonnie Crombie as well as Mississauga-Streetsville MP Brad Butt, to name a few.
Botros said the guest of honour was impressed with how "beautiful and developed" Mississauga is and was very moved by the "warm welcome of the people."
The visit, which took place on the eve of the Coptic New Year, was met with Coptic songs as well as speeches from guests, including His Holiness.
In March 2013, Pope Tawadros II named Bishop Mina the first Coptic bishop in Canada. The following month Mina was enthroned at the Mississauga cathedral, which is home to his seat.
Mina's diocese reaches from Mississauga to Vancouver.
Canada is home to an estimated quarter of a million Coptic Christians.
Pope Tawadros II, whose Canadian tour runs until Sept. 29, is expected to make another appearance in Mississauga on Friday (Sept. 12) to meet each member of the church.
"He wants to shake hands with every person in the congregation," said Botros, anticipating nearly 3,000 guests to attend.
Source: The Mississauga News